Direct Mail Marketing
We give businesses a complete package for direct mail marketing campaigns that includes mailing list, printing and distribution of mailers.
APAC Catalogs
We manage all print production details. These were products catalogs for All Purpose Adhesive Company.
ENCapSeal Brochure
Brochures can do more than just showcase your products and services. Savvy companies are using them to showcase client success stories and testimonials to demonstrate results. No matter what your needs, print or digital, Main Street Marketing creates brochures that complement your arsenal of sales tools. Here are just a few samples of our work.
APAC Marketing Material
APAC used product catalogs, brochures, sell sheets and MSDS Books to inform customers for their product offering. We offer a consistent theme throughout all marketing material to keep your message on track.
APAC's Building Bonds for Life" Ad Campaign
Main Street Marketing develops creative and insightful marketing campaigns that build credibility, establish reputations, facilitate the sales process and open the door to new opportunities.
APAC "Building Bonds for Life" Ad
APAC's "Building Bonds for Life" ad was cosponsored by Goodyear. The ad won the American Graphic Design Award; Sponsored by Graphic Design USA magazine in 2003.
APAC Adhesives
We work with companies on their re-branding, new label design, and product packaging that including new logo.
Jobsite Article Reprint
Corporate press release for company announcements and product introductions. This is an example of an APAC article from Jobsite magazine featuring several new products.
Premier Tape Products Tape Catalog
Premier's Tape Catalog included carpet seam tape samples. This was the main presentation piece for their sales force.
Premier Tape Boxes
Product Packaging and branding for Premier Tape Products carpet seam tapes included logo design and product placement for all of their carpet seam tapes.
Premier Tape Products
We created and ad campaign for Premier Tape Products, Inc and also coordinated the media buying.
Premier Rewards Program
Premier Tape Products was looking for away to build customer loyalty and branding. The Premier Rewards Programs was a program that helped introduced Premier Tapes.
Premier Glue Sticks
Premier Tape Products needed package design and product introduction for their new glue sticks.
Capitol USA Marketing Literature
Main Street Marketing, we help businesses of all sizes build and enhance their brand in order to strengthen and grow their competitive position. Our branding capabilities range from basic branding support (logo development, tagline development, etc., and applying those standards across all collateral materials) all the way to comprehensive identity and go-to-market strategy development and execution.
Capitol USA Tape Boxes
Product packaging for Capitol USA's carpet seam tape boxes.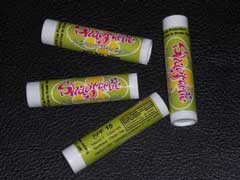 Shagedelic Lip Balm
For Shagedelic's customer open house they gave clients Bees' Natural Peppermint Lip Balm.
Capitol USA Watercolor Set
Capitol USA needed a giveaway item for a trade show. The watercolor paint set went with their ad slogan, "Installing is an Art".
Capitol USA Mouse Pads
Mouse pads make excellent promotional products. Mouse pads get long term use and can made in a wide varity of custom shapes and sizes. Capitol's mouse pads stay with their "Installing is an Art" slogan that also go with their marketing literature and ad campaign.
CRS Tri-State Home Show Booth
Events are hard work, but with the right strategy, focus and implementation they can pay valuable dividends. Main Street Marketing creates event materials that helped Main Street Marketing clients achieve greater ROI from their event sponsorships and participation.
APAC Exhibits At Surfaces
Coordinate and setup booth for Epic and Premier Tape Products at Surfaces Trade Show.
Patcraft Booth
Just one of the many booths that was designed and setup the trade shows that Patcraft attended.
Discover Dalton
Discover Dalton was a tourist magazine sponsored by Dalton Convention and Visitors Bureau that was published monthly.
Fortune Group
These were leadership and sales training workbooks for Fortune Group's seminars.
Polywog's Yogurt & Coffee Shop
We designed the logo for Polywog's Yogurt & Coffee Shop.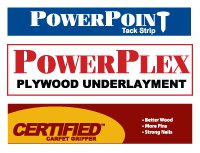 INNERLOC Logo
Logo and package design for Arnold Precision LLC's INNERLOC Carpet Seam Tapes.
Product Branding for Traxx
Various logos and package designs for TRAXX tackstrip and plywood underlayment product lines.
Ink Tatt
We did the layout and design for Ink Tatt's business cards with a QR Code for thier website information. These business cards have extra thick paper and a UV-coating.
CRS Business Cards
We designed and printed business cards for Concrete Repair Specialist.
Logo Designs
Creative and professionally designed logos for corporate or product branding.
APAC Ad Campaign
"Building Bonds for Life" ad campaign for All Purpose Adhesive Company